William C. C. Chen's Tai Chi Form and Workshops
---



This page is a special subscription-only access to instructional and practical demonstrations by Grandmaster Chen himself as well as featured videos by competition performers, such as Tiffany Chen, Max Chen and many others.

Go to:

: Essential Sports and Fitness Video Channel

to sign up.

Besides helping you understand the basics of the Tai Chi form, these videos offer glimpses into master Chen's specialty, teaching the connection between the Tai Chi form and achieving great speed and power for self defense.

Additional expert content and great moments will be added regularly. There is no advertising on any video or article. There is one $29.00 fee for the year of unlimited viewing.

Feel free to scroll down and pick your favorite interest. Unlimited streaming to PC, Mac, iPad, iPhone and iTouch browsers. No app needed and no ads shown.



Yang Short Form - with cloud background
60 movements of Tai Chi Chuan by William C. C. Chen (1993)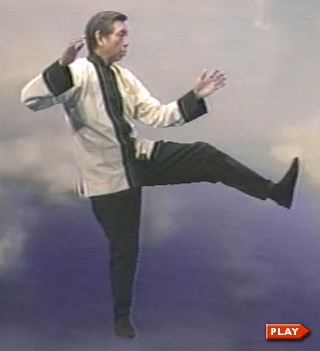 Tai Chi is an ancient martial art system for health and self-defense, promoting spiritual, mental, and physical well-being. The Yang style form, shown here, is slow, gentle, even flowing and relaxing. It has a reputation of being excellent for stress reduction, self centering and living a more enjoyable life.
In its many variations, the Yang style Tai Chi form (exercize) is the most widely practiced in the world. Grandmaster Chen is one of the world's preeminent Tai Chi teachers, a senior disciple of the legendary grandmaster, Professor Cheng Man-Ching, who, in turn, studied with Yang Cheng-fu, the most prominent modern descendent of Yang Lu-chan, the founder of the Yang style.
To subscribe and watch William Chen's Yang Short form, click on picture
Body Mechanics of Tai Chi Chuan
Workshop by William C. C. Chen in Hanover - short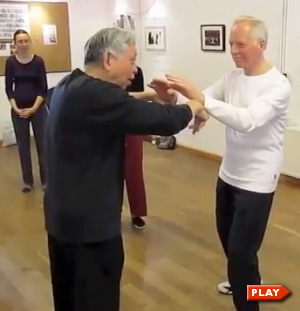 Clips from one of Master Chen's Body Mechanics workshops in Germany.
He demonstrates:
Expanding your energy and making use of your opponents force to push
Driving energy from your chest walls ("heart") for a two-handed strike
Connecting to your inner thigh and alternating between loose and tense to create high speed hooks.
To subscribe and watch this clip of William Chen in action, click on picture
Fingers and Tai Chi Kung Fu
"Fingers are the Work of Art", article by William C. C. Chen (2012)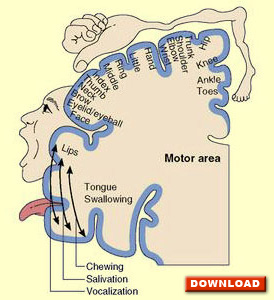 Master Chen describes the importance to Tai Chi and sports in general of directly connecting to the fingers. He explains how all movements are led by the fingers, and their role in achieving maximum punching speed and power.

>
To subscribe and download this article by William Chen, click on picture
(This is a downloadable PDF file. It's OK to give your browser permission to view.)
Step-by-Step Tai Chi
Instructional video trailer from Tiffany Chen
Some clips of Tiffany doing the form and shadow boxing. She talks about her growing interest in Tai Chi and the martial arts competitions she's won. Tiffany has been inducted into Inside Kung-Fu Magazine's "Hall of Fame".
To subscribe and watch this clip of Tiffany Chen in action, click on picture
Yang Short Form - Split Screen
60 movements of Tai Chi Chuan by William C. C. Chen (1993)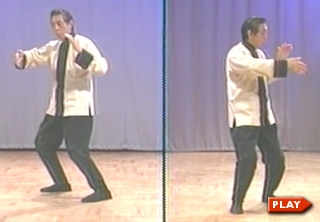 Through the use of a split screen, Master Chen makes it easier to understand the correct positions for hands and feet. In addition, he counts out each of the movements to correspond with the pictures in his book.
The Yang Short Form is broken into two parts (A and B), so that beginners can learn Part A first. This consists of the first quarter (or so) of the entire short form and has the most basic, simple moves.
To subscribe / watch split screen Tai Chi form, Part A, click on picture
To watch split screen Tai Chi form, Part B, click here
To watch split screen Tai Chi form from behind, Part A, click here
To watch split screen Tai Chi form from behind, Part B, click here
Yang Short Form - with Breathing Hints (from behind)
60 movements of Tai Chi Chuan by William C. C. Chen (1993)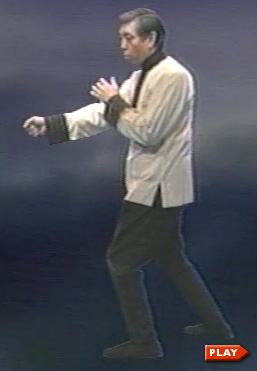 Master Chen narrates alternating "wake up" and "fall asleep" instructions that correspond to the breathing and energy pattern of the Tai Chi form. "Fall asleep" is when you exhale and relax the most (Yin), and "wake up" is when you inhale and expand your energy (Yang).
The coordination of slow movement and deep relaxed breathing helps explain the medical research findings that the Tai Chi form promotes blood circulation, increases the oxygen level throughout the body, and enhances the body's healing systems. Tai Chi has a reputation not only for being safe at any age, but also of slowing the aging process itself.
To subscribe / watch Tai Chi form with breath hints, from behind, click picture
To watch credits for this DVD (clip with Tiffany and Max Chen), click here
---
Yang Tai Chi Sword Form - front view
Tai Chi sword movements with English names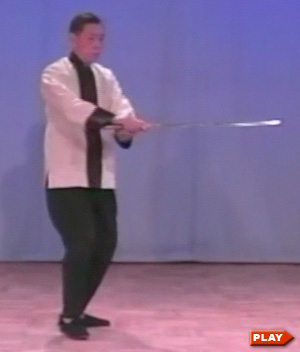 The double-edged Chinese sword lends itself naturally to the principles of Tai Chi because it is not designed to meet force with force. Instead, the sword is used to deflect, avoid, and redirect blows - before delivering a slash or stab of its own. This was the weapon of choice for many famous generals and scholars.
From: William C. C. Chen (DVD) (00:05:30)
To subscribe and watch Grandmaster Chen's Sword Form, click on picture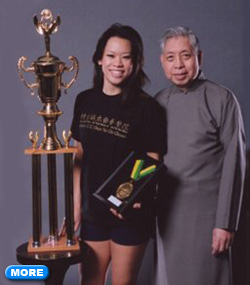 Tiffany Chen's Competitions and Fights
Daughter of Tai Chi master teaches Tai Chi and applies training
Learn more about Tiffany Chen's competition videos
Subscribe to Tiffany Chen's page of videos
More Videos from Senior Students of Master Chen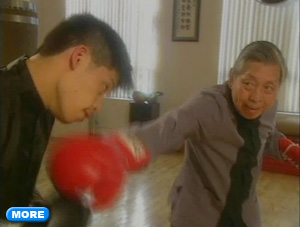 Mixed Martial Arts Fights with Max Chen
More great videos from Max Chen to come!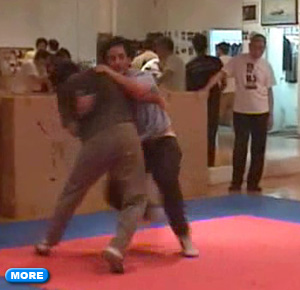 Josh Waitzkin's Push Hands Competitions
Chess master becomes world Tai Chi Push Hands champion
Learn more about videos of Josh Waitzkin's push hands competitions
Lots of great new videos, in case you haven't looked lately.
Master Chen's complete Body Mechanics DVD:
http://contentgalaxy.com/video/tai-chi-body-mechanics/william_c._c._chen
Ken Van Sickle's complete Feather Sword DVD:
http://contentgalaxy.com/video/tai-chi-sword/ken-van-sickle
"Martial Arts: The Real Story" a DVD from Pacific Street Films that includes a segment staring William, Max, and Tiffany:
http://contentgalaxy.com/video/martial-arts/pacific-street-films
"Balance Disruption Workshop", a DVD by a martial artist who teaches Filipino styles, and it contains interesting material relevant to push hands:
http://contentgalaxy.com/video/martial-arts/mike-casto
---