Benefits Of Tai Chi
| | |
| --- | --- |
| | Students who have trained Tai-Chi Chuan over a period of time, for as little as fifteen minutes a day, have experienced the some of the following: |
Relaxation:
Physical tension in the body is greatly reduced and this leads over time to a reduction in mental tension. Progress in training Tai-Chi Chuan clears the mind. Thinking becomes more lucid, the mind more peaceful, the temper more gentle. People have found that headaches and migraine are eliminated.

Improved Blood Circulation:
Those with poor blood circulation find that the hands, and later the feet, become warmer, and they are more able to withstand the cold of winter.

Healing:
Old injuries are often the cause of pain many months or years after the original problem. Training in Tai-Chi Chuan will draw out such injuries, causing some beginner students to complain that they feel more aches and pain since starting Tai-Chi Chuan. After some weeks or months of training (depending on the extent of the original injury) these aches and pains are gone.

Internal Changes:
Problems with incorrect blood pressure have been corrected after training for some months. Regular training improves the elasticity of the blood vessels and skin tissue and thereby has the potential to slow the ageing process.
Students who have trained twenty minutes a day dissipates stress and reduces stress-related debilities, increases stamina, and strengthens the body and will.

Western Science recognizes the following benefits of practicing Tai Chi: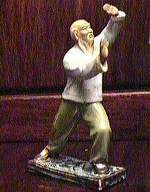 \
Increased oxygen uptake and utilization (more efficient breathing),

Reduced blood pressure,

Slower declines in cardiovascular power,

Increased bone density,

Increased strength and range of motion of joints,

Greater leg strength, knee strength, and flexibility,

Reduced levels of stress hormones during and after practice,

Improved immune function, and heightened mood states.
---